Red Dead Redemption 2 will be released in November on PC
FREE DOWNLOAD TORRENT
Red Dead Redemption 2 Game Free Download Torrent
Rockstar Games has officially announced the Red Dead Redemption 2 for PC— the game will be released on November 5 this year. Pre-order in your own launcher will be open on October 9. Those who managed to make a pre-purchase until October 22 will be able to receive one of the following games for free as a gift: Grand Theft Auto III, Grand Theft Auto Vice City, Grand Theft Auto San Andreas, Bully Scholarship Edition, L.A. Noire The Complete Edition, Max Payne 3 The Complete Edition. In addition, promised in-game bonuses.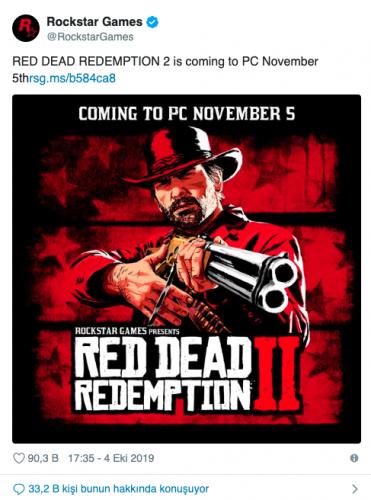 On October 23, pre-orders of RDR2
will be available in the Epic Games Store and the Humble Store. And only in December, and without specifying an exact date, an interactive western will appear on Steam. Considering how things are now generally with the Valve online store, it is surprising that the developers decided to release the game on this site, although much could change until December.
About This Game
Overview
The developers promise that the version of Red Dead Redemption 2 for the PC, as expected, will include a number of graphic and technical improvements that will allow you to more immerse yourself in the game. The company also promises additional missions related to bounty hunting, gang den, weapons and much more, including some new story content.

Finally, for a preliminary purchase at Rockstar Games Launcher, players will receive a bandit survival kit, war horse, treasure map, cash bonus along with 50 gold bars for Red Dead Online for the story mode. The game provides free access to Red Dead Online with all relevant additions and materials. Among other things, players will be available on the frontier crafts in the roles of a bounty hunter, trader and collector, in each of which you can succeed and get unique rewards.

Red Dead Redemption 2 originally launched on PlayStation 4 and Xbox One in October 2018. In other words, a little over a year will pass before the release of the PC version. This is noticeably less compared to the previous Rockstar game, Grand Theft Auto V, which took more than 18 months to jump from the world of consoles to PC. By the way, the original Red Dead Redemption never got to the PC.